8 Benefits of Having Your Cincinnati & Northern Kentucky Corporate Events Catered
Corporate / 01.12.21
Corporate events, whether they're happy-go-lucky retirement parties or crucial annual presentations, offer an opportunity for networking, training and collaboration. To ensure your Cincinnati and Northern Kentucky corporate events live up to their full potential, you must plan to accommodate your guests' needs effectively. Most of the time, this means making sure they don't leave hungry!
In this blog, we're sharing eight reasons why catering your corporate events in Cincinnati and Northern Kentucky is the easiest, most stress-free way to keep your guests happy. Good food is one thing that always brings people together, right? That connection over a meal is important for a flawless corporate event every time!
1. Accommodations for Dietary Restrictions
Your business partner may make a great crab cake, but what about your employees with shellfish allergies? When you go through a catering company, you can specify which, if any, dietary restrictions there are in the crowd. Plus, a catering company will tell you exactly what to ask your guests and employees to make sure no one is left out on the food front. A few of our crowd favorite entrées for dietary restrictions are:
Favorite Vegetarian & Pescatarian Entrées:
Vegetable Rotini: Tri-color rotini pasta with mixed vegetables including yellow squash, zucchini, red peppers and red onion in a rich alfredo sauce and baked with feta and parmesan cheeses
Grilled Atlantic Salmon: Served with a citrus honey butter, paired with pan-seared garden vegetables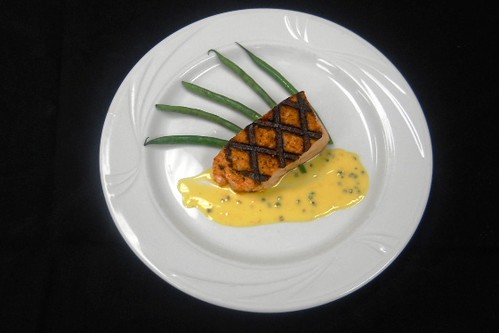 Favorite Gluten-Free, Dairy-Free Entrées:
Prawns: Large grilled shrimp skewers, topped with tomato, garlic and caper relish, paired with a seasoned steamed vegetable medley 
Herb Crusted Pork Tenderloin: Served with plum walnut chutney, paired with sautéed French green beans with toasted almonds
This is just the tip of the iceberg, though. Whether you have vegetarians, vegans, pescatarians or needs for dairy-free, nut-free, gluten-free—just let us know. At McHale's, we understand that everyone is different, which is going to mean different dietary requirements and preferences. Catering experts are able to more easily accommodate food allergies and intolerances without making the planning process more stressful or significantly more expensive. We will ensure your guests are taken care of every time!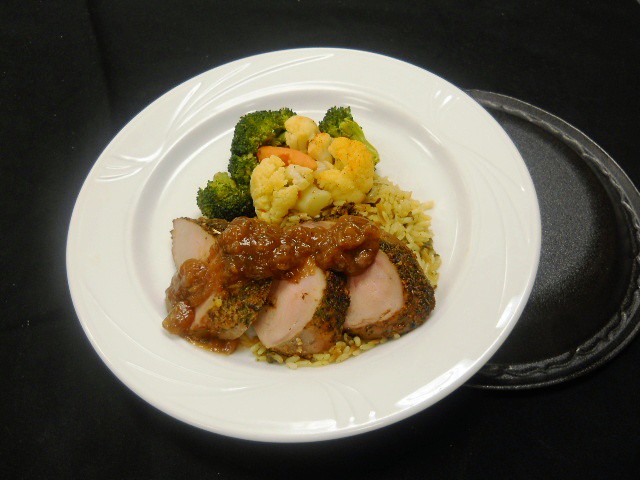 2. Classic Food Options
Some foods are simply tried and true with most groups. Most catering companies build their menu options around classic favorites and known crowd-pleasers. This step ensures that all your attendees find something to eat that they'll love! Happy tummies mean happy guests. Some of our McHale's corporate client favorite hors d'oeuvres and entrée options include:
Tuscan Chicken: Topped with tomato, mozzarella and parmesan cheese served over a bed of rice or spinach fettuccine
Local Ale Braised Beef Short Rib: Served over a bed of white cheddar polenta
Butler Passed Hors D'oeuvres Including: Bacon wrapped water chestnuts brushed with BBQ sauce, sun-dried tomato hummus served with tri-colored tortilla chips and display of fresh fruits with a creamy strawberry dip
3. But Also Varying Menu Options!
Now, while you want those classic options, sometimes you're looking to really pull out all the stops. Maybe it's a product launch where you want a truly immersive dish to wow attendees or a donor thank-you event where you want to delight them with every dish and allow them to interact with food stations.
When you handle food on your own, you're limited to what you can prepare and buy! Plus, when it comes to internal employee events, after two or three events, chances are your employees would love a little something new.
Our talented and creative chefs live and breathe culinary creations every single day. They'll work with you to create a menu you and your corporate event attendees will love. Keep it close to home or take it international with these favorite creative station options:
Asian Station: Grilled chicken, garlic shrimp and/or marinated steak served with stir-fried vegetables in a ginger and garlic soy sauce with fried rice
Latin Station: Grilled chicken, marinated steak and/or pork carnitas served with soft flour tortillas, shredded cheddar cheese, salsa, sautéed peppers and onions, sour cream and refried beans
Indian Station: Choice of curry dal or vindaloo (chicken, lamb or vegetable) served with basmati pilaf, roasted cauliflower and carrot with mustard oil and fresh garlic
Kentucky Station: Bourbon BBQ, sorghum slaw, buttered grilled buns, mustard potato salad and country green beans
Classic Cincinnati Station: Build your own coneys with Cincinnati chili, local franks, Klosterman buns, cheese, mustard and onions served with Kentucky-style green beans and Saratoga chips.
Dessert Station: Mini dessert bites including raspberry crunch, fudge walnut and pecan pie bars, Oreo blondies and s'mores torched before your eyes.
We can also work with you to create custom menus to fit your corporate event theme or mission.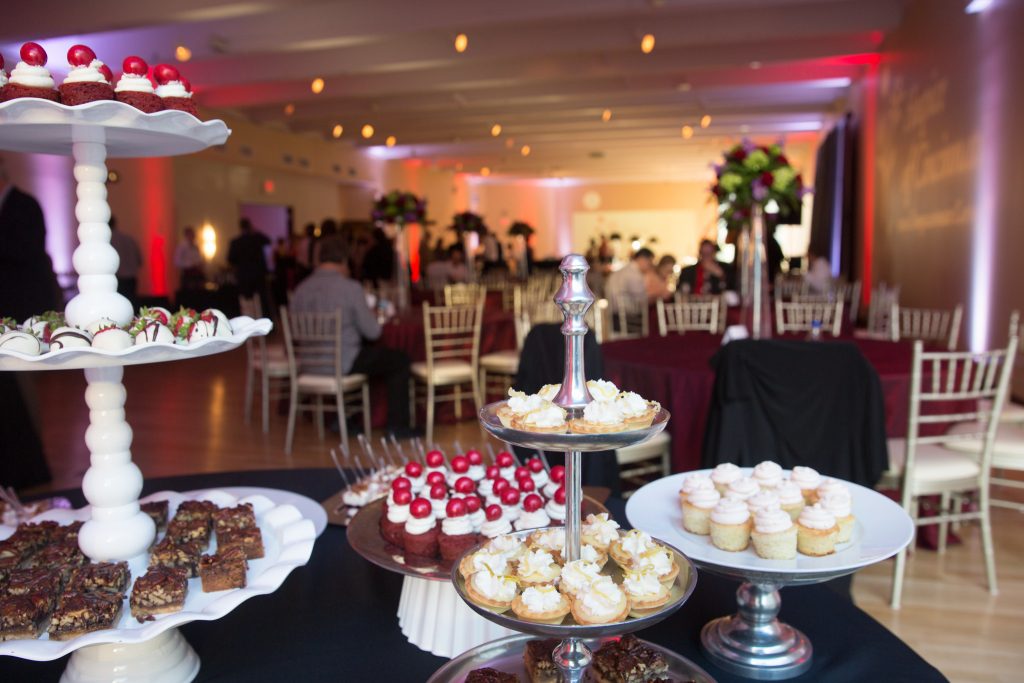 4. Cost-Effective Meal Planning
Hosting events can be an expensive investment, especially if you're not an expert in event budgeting! Unless you have experience with event and meal planning, you likely don't have the knowledge needed to effectively execute a large-scale meal. Your caterer knows exactly how much food to bring for each estimated guest to make sure each person leaves satisfied but not end up with tons of waste or surplus when the meal is over.
Some catering professionals can even help you pin down your estimated number of guests with fun formulas that have worked for them in the past. This way you're not spending money on attendees who don't show up!
5. Reduced Stress and Responsibility
Event planning is consistently listed as one of the most stressful jobs out there. If you have ever organized a corporate event, you know how hectic the process can be from inception until the end of clean-up! It's a lot. Especially if you have a full-time job that requires your undivided attention.
Delegating the responsibility for food to a catering company lets you mark one task off your list. And when you work with a catering company like McHale's Catering & Events, you're likely checking about 10 things off or more. We'll provide wait staff and servers so that you don't have to worry about messes or even disproportionate portions, we'll help you plan rentals, and we can assist with event timelines and more. We're not your average catering company!
6. Set Event Tone and Atmosphere
The food items and style you choose can set the tone for your entire event. For example, hors d'oeuvres circulating on trays provide an air of sophistication and promote mingling, friendly conversation and a spirit of fun. On the other hand, a formal sit-down dinner lends gravity to your event and encourages important conversations over the meal.
Most catering companies offer many different styles so that you can craft the perfect atmosphere for your event! You can check out all our McHale's Events and Catering menu styles on our menus page.
7. Expert Help with Permits and Handling
Food handling requires specific knowledge that may be overlooked when not handled by professionals. When you work with a caterer, you know you've hired a professional who helps reduce the risk of undercooked food, cross-contamination and other food issues.
Additionally, if you plan to serve any alcohol at your event, your caterer can help you determine if you need any permits, licensing or space at a particular venue.
Plus, we work with a bunch of Cincinnati and Northern Kentucky event venues every single day who know all the ins and outs. We know who you need to work with for success! A couple of our most popular area venue partners include: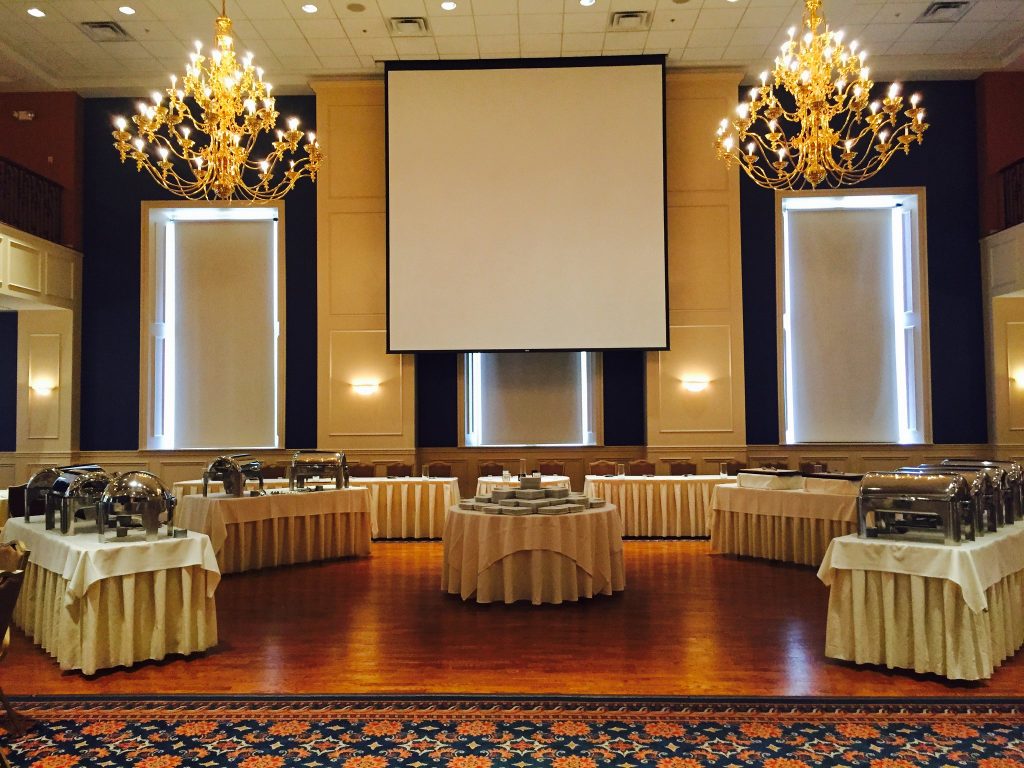 Standard Capacity: 340 Seated / 500+ Cocktail
This two-story ballroom provides plenty of space for networking and creative corporate event setups.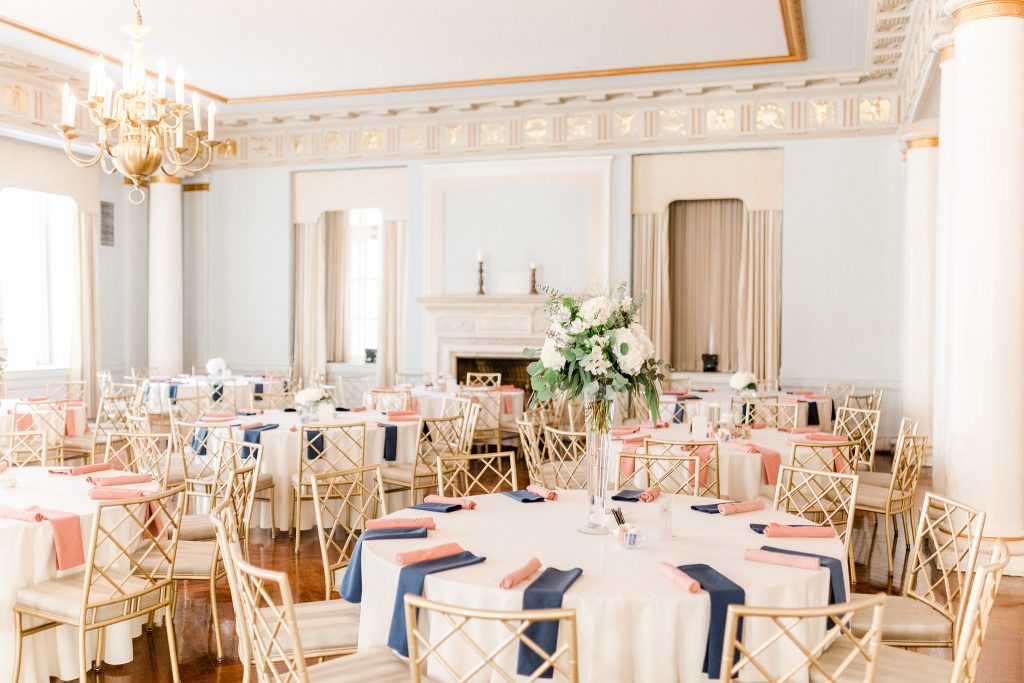 Standard Capacity: 300 Seated / 500+ Cocktail
This historic 1920s venue is a staple in local Cincinnati history. Originally a grand hotel and private club, it has been transformed into a luxurious, art-deco-inspired corporate event venue.
Other partner event venues include Cincinnati Music Hall, Cincinnati Contemporary Arts Center, Devou Golf & Event Center, National Underground Railroad Freedom Center, New Riff Distillery and Event Center, Rhinegeist Brewery and more! Check out all our partner venues on our website and reach out to schedule a tour.
8. Positive Impressions of Your Company
Last, but certainly not least—your impression. When you get dressed for the day and meet with clients, your appearance and demeanor create an image of your company that can make or break any deal. The same theory applies to the food served at company events!
Professionally prepared, served and presented food paired with flawlessly executed logistics and service provides clients and employees the impression that your company is both confident and capable—which we know you are!
McHale's Is Ready to Help Cater Your Cincinnati & Northern Kentucky Corporate Events 
Need catering for an upcoming convention, meeting or team-building activity? Our McHale's Events & Catering team can work with you to provide a custom proposal with a wide variety of menu options, perfect for events of all sizes and purposes. We can even help you find the right venue if you're hosting your corporate event off-site. We can't wait to start planning and help relieve some of that stress.