How to Choose the Perfect Wedding Menu Style
Weddings / 02.26.17
When you think about the weddings you've attended in the past, what do you remember most? The magical setting, how the couple looked at one another during their first dance…. But let's be honest, most of all, you remember the food! We're going to let you in on a little secret: even when it's your big day and there is tons of excitement and love swirling around you, you're still going to want to nibble on delicious food. Just as with any special occasion, food is what brings people together to celebrate. Your menu is a critical piece of your big day being everything you wanted and more!
At McHale's, we help you and your partner craft a personalized menu made just for you, while also ensuring flawless service!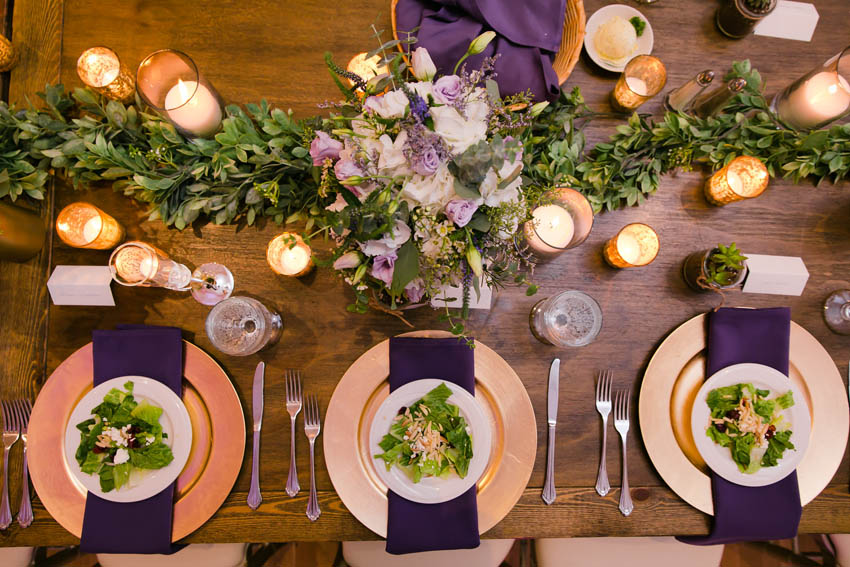 Choosing the Right Wedding Menu
When it comes to crafting the perfect wedding menu, you must consider a few things:
Your food obsessions and aversions
The vibe—are you going casual, relaxed or upscale, black-tie
Kitchen facilities at your venue
Budget
Allergies or dietary restrictions 
Time allotted for dinner
These are just the start, but they're the most important factors! Let's break down different wedding menu styles with some pros and cons that you can consider, too.
Plated Wedding Menu
A plated wedding menu has been the standard for weddings for ages. Also called a seated wedding menu, this is the most traditional menu option for weddings with a more formal, elegant, and conventional feel. The meal consists of multiple courses. You can choose to do a duet (every guest gets two entrées), or the guests have a choice that they select when they RSVP.
This style of menu has the benefit of no leftovers at the end of the night. However, it can be slightly pricier in terms of staffing. We always bring enough staff on-site to make sure everyone's plate comes out piping hot from the kitchen!
Here's an example of what a multi-course plated meal menu could look like:
Signature Salad Bed of mixed greens, fresh tomatoes, julienne red onions, crumbled feta cheese and basil-balsamic vinaigrette
Grilled Filet Seasoned (4oz) With Steakhouse Dust with a Merlot Mushroom Demi Glace
Jumbo Lump Maryland-Style Crab Cakes With Subtle Spices and a Lemon Caper Mayonnaise
Sautéed French Green Beans
Parmesan Potato Duchess Rosette
Buffet Wedding Menu
A buffet-style meal is perfect for the more casual couple. The food is displayed on two-sided banquet tables, and everyone heads up and serves themselves from a lovely spread that provides a little something for everyone!
An added benefit is that the guests will have the option to come back for seconds—they eat this up, literally! Another plus of the buffet is that it is easier to accommodate dietary and allergy restrictions with simple signs at each dish. McHale's will always give you an option to have special meals at no additional cost, but the buffet does make it easier for those couples who like to keep things simple.
Here's a small sampling of some items we could include in your buffet:
Charcuterie Display A beautiful display of fresh fruit and assorted cheeses, smoked meats and crackers
Strawberry Fields Mixed field greens, hearts of romaine, sliced strawberries, crumbled feta cheese, candied walnuts drizzled with a raspberry vinaigrette
Hand Carved Choice Prime Rib of Beef Served with au jus and fresh horseradish
Roasted Garlic Mashed Potatoes Whipped potatoes with a blend of garlic and butter
Green Bean Casserole Fresh green beans mixed with a creamy mushroom sauce and French fried onions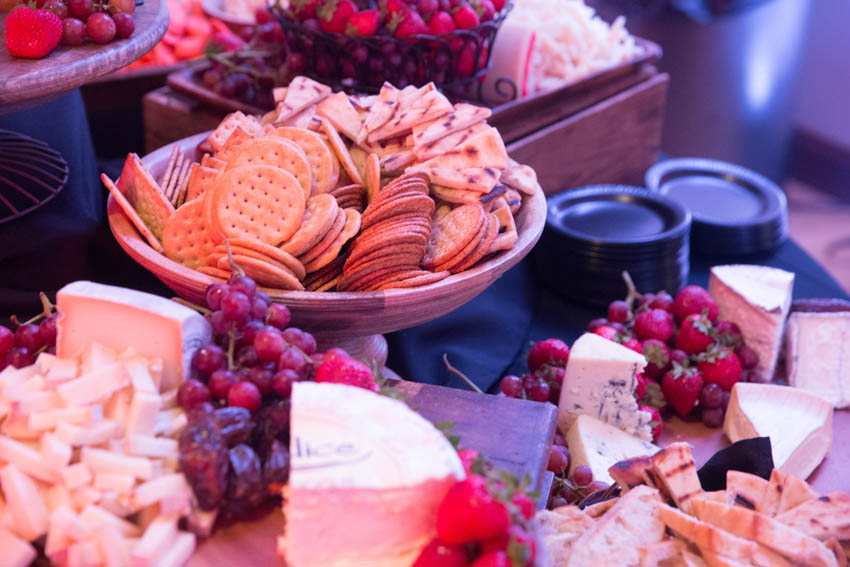 Stations Wedding Menu
For a wedding reception that's exciting and focused on the food, a station-style wedding menu is perfect. This style consists of various food stations set up around the room with smaller portions so that people can try a little bite of everything!
A stations menu style allows interaction between guests and chefs, which can be super fun for foodie couples. One thing to consider is that stations tend to be slightly higher on the budget end of things because there's a need for extra chefs and food. Worth the extra pennies for the experience, though!
Our travel-loving couples love doing an around-the-world theme with culturally inspired stations. With the below station menus, you can transport your guests to Mexico, Germany and Italy all during your reception!
Latin Station Grilled Chicken, Marinated Steak or Pork Carnitas (choose two) served with Soft Flour Tortillas, Shredded Cheddar Cheese, Salsa, Sautéed Peppers and Onions, Sour Cream and Refried Beans
Bier Garten Station Ale Braised Sausage with Fresh Sauerkraut, crusty Dinner Rolls and Whole Grain Mustard, warm Applewood Smoked Bacon Potato Salad, Braised Red Cabbage with sweet Honey Crisp Apples and Fennel
Pasta Station Bowtie Pasta or Tri-Color Cheese-Filled Tortellini with creamy Alfredo, zesty Marinara, Pesto and toppings including Diced Grilled Chicken Breast, Sun-Dried Tomatoes, Artichoke Hearts, Diced Zucchini and Yellow Squash, Fresh Garlic and Grated Parmesan Cheese
Family-Style Wedding Menu
The family-style menu is like the traditional seated style but more casual. Instead of having the wait staff come out and serve each individual, each dish will be set on the table, where guests can pass it around—just like dinner at home.
This menu style allows your guests to interact more, like the buffet but without the long lines. Food will take up some room on the tables, so you'll want to consider that when planning your centerpiece. We love tall candelabra-style centerpieces for this because then the food can rest on the table more easily. Cost is slightly higher than seated but less than stations since there's typically more food prepped to provide each table with their own platter of delicious food! Here are a few options that are easily shared family-style:
Marquise House Salad Fresh Mixed Greens, Cucumbers, Tomatoes, Onions, Cheese, Croutons and Ranch Dressing
Tuscan Chicken Topped with Tomato, Mozzarella and Parmesan Cheese
Pan-Seared Garden Vegetables Fresh zucchini, yellow squash, red onion, red bell pepper and carrots seasoned with butter, garlic and fresh herbs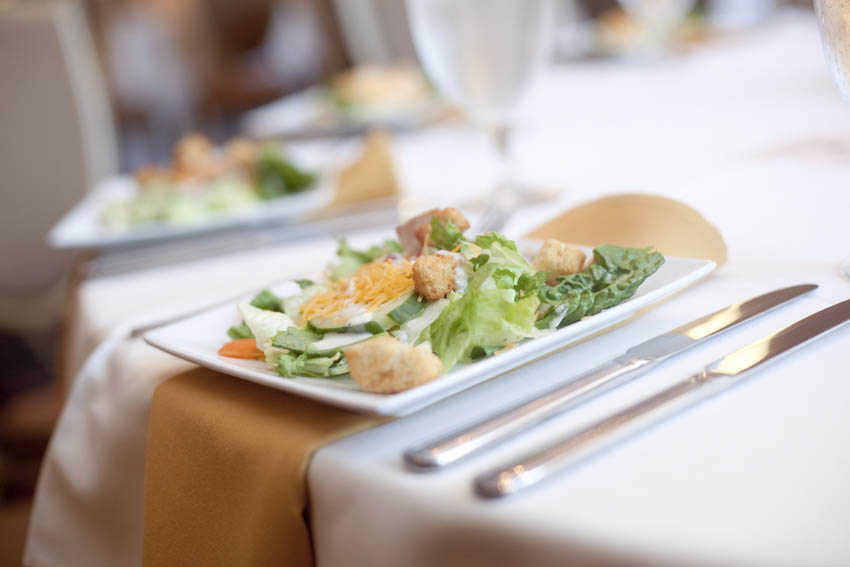 Hors d'oeuvres Wedding Menu
The hors d'oeuvres or cocktail-style menu is only a trend that's been seen in more recent years. Instead of serving a full meal, your caterer provides hot and/or cold hors d'oeuvres for guests to eat. This is great for those couples who can never decide where to go to dinner or love tapas-style dining. You get a bite of every tasty morsel with tons of different options and flavors!
If you have a smaller venue, the hors d'oeuvres-style menu may be a good fit. In terms of price, this option totally depends on what you select. If you have higher-end options it can add up, but it'll have guests raving. Make sure they know to expect a heavy hors d'oeuvres menu on the RSVP so they don't come expecting a buffet or sit-down meal.
Mini Meatballs served in a choice of Sweet and Sour Sauce or a Bourbon Glaze
Bacon-Wrapped Water Chestnuts brushed with BBQ Sauce
Spinach and Artichoke Dip served with Tri-Colored Tortilla Chips
Breakfast, Lunch or Brunch Wedding Menu
If your ceremony is earlier in the day, go for a breakfast or luncheon menu style. Or if you're trying to be super trendy, choose a brunch wedding menu! Breakfast foods, such as waffles or pancakes, can be made a little fancier with some extra chocolate or fruit. Lunch items can include salads and/or finger sandwiches reminiscent of high tea.
These options are often much less expensive than dinners and leave your evening open for time with close friends and family! You may also get a few extra discounts from vendors for the daytime time slot. Here are a few menu options that work perfectly for that brunch wedding:
Chicken and Waffle Station Thick Belgian-Style Waffles with a Boneless Fried Chicken Breast topped with Whipped Butter, Honey with Chili Spice, Maple Syrup and Hot Sauce
Scrambled Eggs, Egg Strata (Choice of Vegetarian or Meat) or Omelets 
Link Sausages and Hand Carved Breakfast Ham
Hash Brown Potato Casserole
Fresh Baked Biscuits served with Sausage Gravy
Hand Carved Top Round of Beef
Belgian Waffles served with Hot Maple Syrup and Butter
Yogurt Bar with Fresh Fruit and Granola
Dessert Wedding Menu
If you and your fiancé are known for your sweet tooths, offering a dessert-style menu is the perfect option to celebrate your sweet, sweet love with a little extra sugar. This style of menu is perfect for an afternoon wedding where it may be too early for dinner or a cocktail-style celebration after a moonlit ceremony. Along with the wedding cake, you can include a candy buffet, an espresso bar, a chocolate fountain with various fruits and an assortment of your favorite desserts.
A couple of things to consider with your dessert-style wedding menu, though. Remember to let guests know not to expect a full meal so no one leaves disappointed. There's a ton of creative language you can use on your RSVP card to let them know you're celebrating your love with a sweet send-off. You'll also want to consider having options for any diabetics or lactose intolerant guests and children—we want them to sleep after your wedding (and so do their parents)!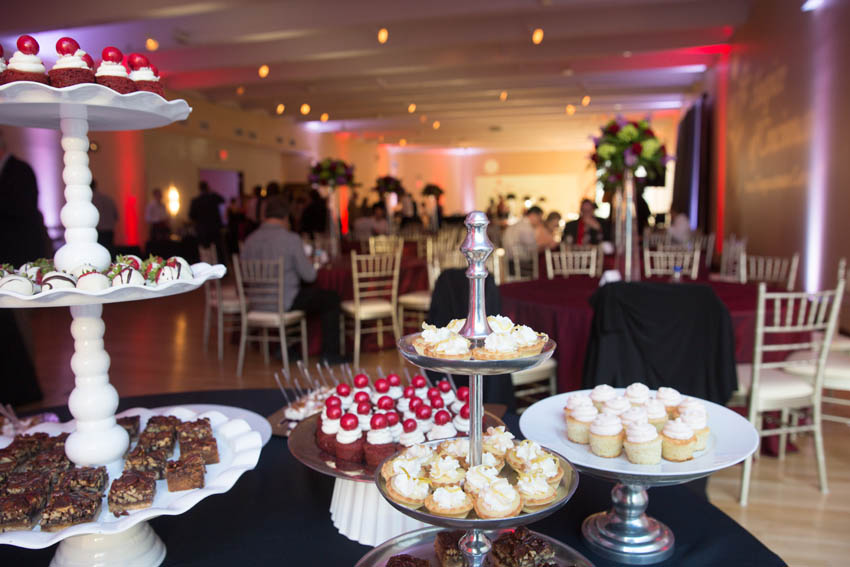 Which Wedding Menu Suits You?
What do you think? Which of these menu styles suits your personality as a couple and what you're envisioning for your big day? Get in touch with McHale's Catering's event planners today to explore your options and craft the perfect wedding menu for your celebration of love!