Q&A Session with McHale's Executive Chef Chris Weist
News & Press / 09.17.20
Like many companies, catering companies like McHale's Events & Catering are only as good as their teams—which is one reason why we take such pride in our people. The creative team behind each menu, the expertise of the service team gained after years of professional experience and overall the dedication of each individual player is why we've been able to help so many individuals craft unforgettable events.
As you can imagine, the executive chef for an off-site catering company has a big job with huge responsibility. Our executive chef, Chris Weist, always rises to meet a challenge and keeps us on the leading edge of culinary trends. He ensures that the cuisine we create is made with every client in mind, that ingredients are fresh and sustainable, and that we're providing quality and value at every event. Moreso, he does this all with an invigorating passion that inspires the rest of our team daily!
We sat down and asked him a few questions about his background and his inspiration. Without further ado, meet Chris!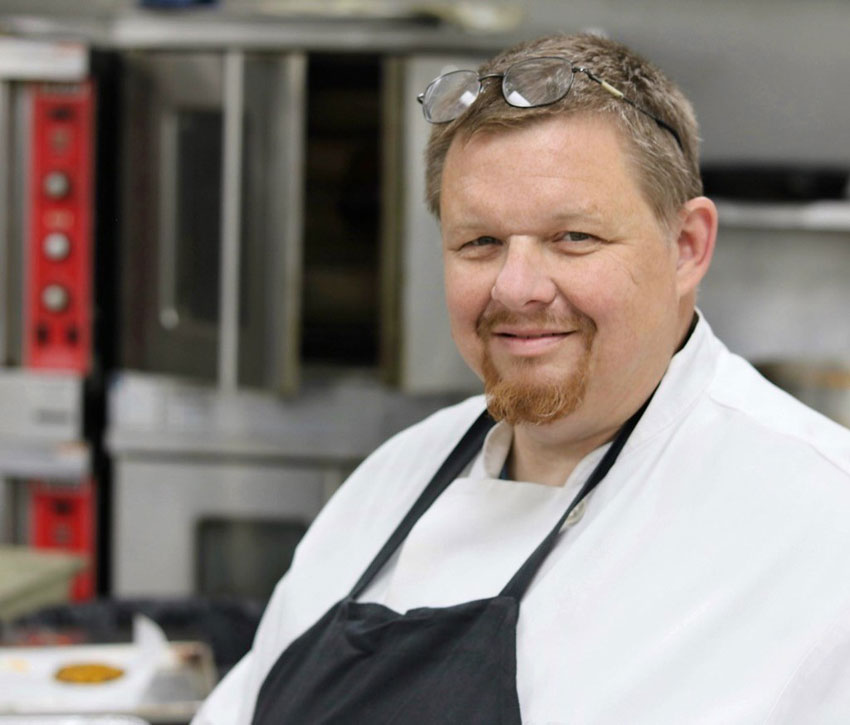 Can you share some of your background with us?
I'm from Cincinnati, born and raised. I started getting more interested in cooking when I was about 16. I was working at a local restaurant and was completely captivated with learning new techniques—especially how to cook steaks to the perfect temperature.

I decided to go to culinary school and graduated from the Culinary Institute of America in New York. From there, I worked under many talented chefs from New York to California and spent time in Aspen and The Big Island of Hawaii. Since I was able to explore so much and work with so many different talents, I've gained a lot of knowledge on how to craft many types of cuisine using varied cooking techniques.

I lived in Hawaii for two years, which allowed me to explore exotic ingredients that found their way to the back door daily—like fresh tropical fruits and vegetables and, of course, the finest seafood. I do enjoy fishing as well, so a lot of it I caught and cooked.

For the last 18 years, I've been exploring cuisine and honing my skills while on the road. I love exploring both places and flavors. I pride myself on delivering restaurant-quality food no matter where I am, and I've catered in some of the finest homes for future presidents and many off-site events of various sizes.

One of my biggest accomplishments is cooking alongside Emeril Lagasse in Seymour, Indiana for his Food Network program "Kick Your School Lunch Up a Notch"—that was pretty incredible.
What led you to hospitality?
As a young short order cook in an open kitchen, being able to see the guests' reactions to something you just cooked was priceless.
Tell us about the inspiration for your McHale's menus. What can people expect from catering with McHale's?
My inspiration comes in many forms. I love that we get to work with many different couples one on one. They share family recipes we're able to recreate with fun twists. I also love taking inspiration from varied cultures and creating ethnic dishes that end up finding their way to our permanent menus.
What is your favorite dish to prepare and your favorite dish to eat?
Fresh seafood. I spent a couple of years in Hawaii cooking and fishing, and you cooked what you caught or what the fisherman caught that day.
What do you see as the food wedding trends for 2020? 2021?
I would say comfort food with a twist maybe featuring a special local ingredient. Also, methods of preparation are changing. With every household having an air fryer and an insta-pot, we will see more requests for this style of food and be challenged to cook these items on a grand scale.
What's in your refrigerator at home that you think readers would be surprised to learn?
Oyster sauce. We use it when we make fried rice a couple times a week.
One rule you learned in cooking school that every home cook should know:
Don't be afraid to season, but season in layers.
Secret weapon spice/ingredient/technique:
Chopped fresh garlic mixed with chopped fresh ginger. Two parts garlic to one part ginger. It's very common in Indian cuisine, but I add it to many things.
If you could have a meal with anyone, who would it be?
Vincent Price (Dead)

Davis Love III (Alive)
Anything additional you think readers should know about McHale's Catering or yourself?
We love to challenge ourselves, bringing quality to the "Big" Table. Have an inspired idea or request? Don't be afraid to ask; we're always up for the challenge.
Thanks for taking the time to share a little bit more about yourself, Chris!
Are you ready to get to know more of our passionate and talented team members? We can't wait to work with you to craft the perfect menu for your upcoming event. Let's chat!